Oatmeal Milk & Honey Bath Soak
Regular price
Sale price
$10.99 USD
Unit price
per
Sale
Sold out
Put It In. And Soothe the Skin.
  Adding Oatmeal Milk & Honey Bath Soak to your bath to will leave your skin feeling replenished. I love adding this to Henry's evening bath, for an additional calming effect for his mind and skin, especially if he is having and extra itchy day from his eczema.
Oatmeal Milk & Honey Bath Soak:
Soothes the skin
Reduces anxiety
Aromatherapy benefits
Hydrates the skin

Alleviates burning and irritation 

Anti-inflammatory properties

Balances the skins PH level 
Directions: Add 1-2 heaping scoops to warm bath water. Use as often as needed. Up to several times per week. ( get approximately 10 baths worth in one jar)
Bath Soak is:

Cruelty Free
No Animal Testing
Gluten Free
Synthetic Fragrance Free
Synthetic Colorant Free
Paraben Free
Sulfate Free
Non-Toxic
Pesticide Free
Glyphosate Free
Essential Oils used are Therapeutic Grade and 100% Pure & Natural
Ingredients:
Whole Fat Dried Milk: hydrates, cleanses, and soothes 
Oats: anti-inflammatory, moisturizing, alleviates burning and irritation of the skin
Baking Soda (Sodium bicarbonate): anti-inflammatory, antiseptic, antifungal, balances the skins PH, reduces redness and itching, gives the skin a glowing and radiant appearance
Essential Oil: aromatherapy
Product Size: 7oz glass jar 3.4" H x 2.8" W, includes 3.5" wooden spoon

 Essential oils used are Therapeutic Grade and 100% Pure & Natural
† These statements have not been evaluated by the Food and Drug Administration. These products are not intended to diagnose, treat, cure, or prevent any disease.
Share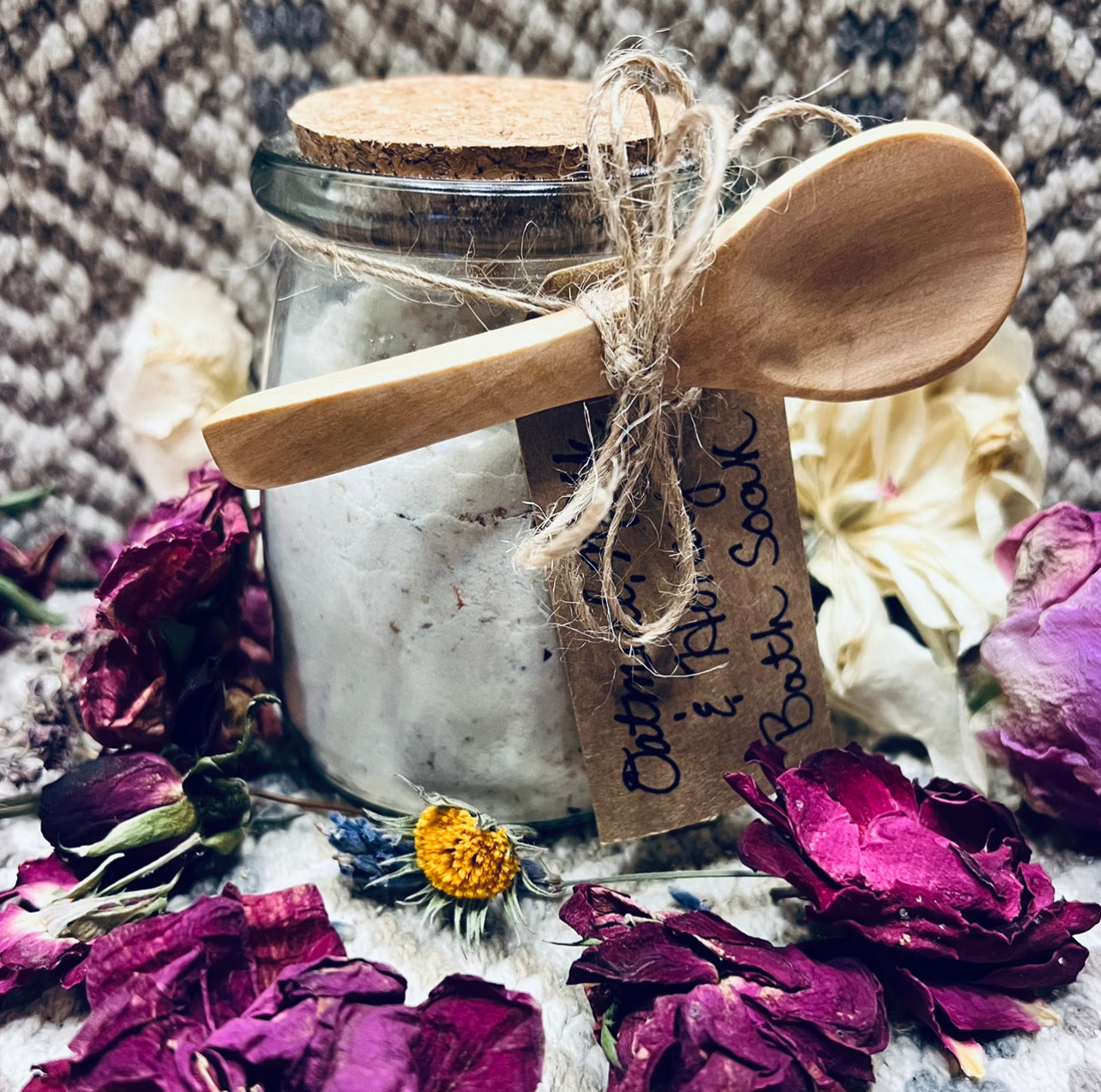 Smooth baby skin
I love how this product leaves my skin very soft and smooth. I use it in the bath or as a scrub during the shower and use it on my face as well, left my face clean, smooth, soft and clean!
Awesome for my Toddlers Dry Skin
I love this bath soak for my toddler. He has really dry skin so I put a spoonful of the bath soak in the tub every night and it seems to help! It makes the water feel softer, and I love the ingredients!