Lip Balm
Regular price
Sale price
$4.99 USD
Unit price
per
Sale
Sold out
Unchapping The Chapped. Safely.
 This lip balm will leave your lips felling soothed, soft, and smoochable. It's easily absorbed into the lips and locks in the moisture.  
Lip Balm:
Locks moisture in preventing chapped lips
hydrates to repair chapped lips
Easily absorbed
Non-toxic
Anti-inflammatory
Antioxidant properties
Antibacterial properties

Alleviates dryness & itching
Directions: Apply before giving any kisses. Apply throughout the day, to be prepared for any kisses that come your way. 
Lip Balms are:
Cruelty Free
No Animal Testing
Gluten Free
Synthetic Fragrance Free
Synthetic Colorant Free
Paraben Free
Sulfate Free
Non-Toxic
Pesticide Free
Glyphosate Free
Essential Oils used are Therapeutic Grade and 100% Pure & Natural
Ingredients:
Sunflower Oil (Helianthus annuus): easily absorbed, moisturizing
Beeswax (Cera alba): non-toxic and safe
Shea Butter (Vitellaria paradoxa): moisturizes, soothes and repairs dry cracked skin
Coconut Oil (Cocos Nucifera ): antibacterial, anti-inflammatory, soothes skin, moisturizes, reduces itching 
Essential Oil: aromatherapy
Vitamin E Oil (Tocopherol) : moisturizes, nourishes, and soothes skin, antioxidant, anti-inflammatory, wound healing, alleviates dryness & itching

Lanolin (Lana oleum): retains moisture by locking in and allowing the skin to moisturize from within, healing, soothes and prevents dry skin
Product Size: 0.5oz screw top tin 1.57"D x 0.7"H (x1 per order)
Essential oils used are Therapeutic Grade and 100% Pure & Natural
† These statements have not been evaluated by the Food and Drug Administration. These products are not intended to diagnose, treat, cure, or prevent any disease.
Share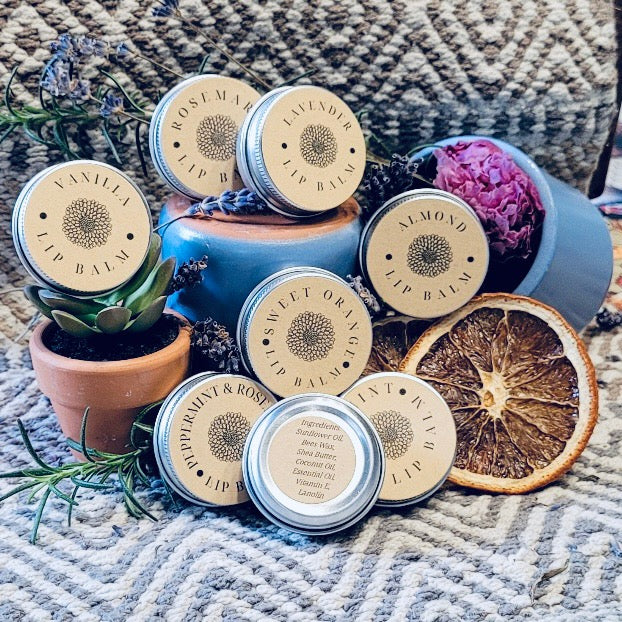 Best lip balm ever
I have always had very dry lips and have tried many lip balms and chap sticks. At 83 years of age, my lips are dryer than ever, as you would expect. Since I started using this lip balm, my lips are soft, don't flake, and don't peel. I shared mine with some family and friends. They were so impressed that I ordered some for them.
LOVE IT
Best lip balm ever created. Perfect for use in Utah where my lips are always dry. Will forever you use this lip balm.
Great lip balm!
We love everything from Henry's homestead and this lip balm is no different. Love the scent and clean ingredients!
Love
Very good smell and is very moisturizing. Better option opposed to toxic princess options in the store for kids.
lovely
I love a good lip balm and this checked all the boxes for me
It's made with clean ingredients and goes on so smooth and lasts. I'm not feeling the need to constantly reapply it.