Healing Salve
Regular price
Sale price
$18.99 USD
Unit price
per
Sale
Sold out
 Healing as gentle as a Mother's "feel better" kiss

This salve can be used on just about anything. Some of my favorite uses include: diaper rash, eczema, chapped skin, cracked heels, minor cuts, bug bites, bee stings, sunburn, rash, minor burns, razor burn, poison ivy, pimples, baby acne, cradle cap, and itchy irritated skin.
💥 Featured in Forbes Vetted 💥       
Healing Salve:
Reduces pain, burning, inflammation, redness, and the appearance of scars*
Has both antibacterial and antifungal properties*

Includes ingredients that are affective against  Staphylococcus Aureus, which is a bacteria associated with eczema and one of the most common causes of infection*

Moisturizes*

Promotes and Improves healing*

Calming aromatherapy benefits*
  We use it so often, I got tired of trying to remember where I left it, so I keep a tin of healing salve up stairs, down stairs, in the car, and one in the diaper bag. Hearing Henry say, " Thank you Mama", after I apply the salve to booboos or his itchy eczema, is a total Mom WIN!
Directions: Apply the salve to the affected area as needed. Order at least 3, to never feel lost without it. Safe for all ages. (As always it's suggested to do a patch test prior to using a new product on your little one.) 
Henry's Healing Salve is:
Cruelty Free
No Animal Testing
Gluten Free
Synthetic Fragrance Free
Synthetic Colorant Free
Paraben Free
Sulfate Free
Non-Toxic
Pesticide Free
Glyphosate Free
Essential Oils used are Therapeutic Grade and 100% Pure & Natural
Manufactured and packaged in the USA
Certified GMP facility
FDA registered facility
Organic Handler Certification
CDPHE registered
Colorado Proud Certified
Ingredients:
Sweet Almond Oil (Prunus Amygdalus Dulcis): conditions skin, emollient- balances the absorption of moisture and water loss*
Coconut Oil (Cocos Nucifera ): antibacterial, anti-inflammatory, reduces itching, soothes and moisturizes skin*
Beeswax (Cera Alba): non-toxic and safe*
Shea Butter (Vitellaria paradoxa): moisturizes, soothes and repairs dry cracked skin, reduces the appearance of stretch marks and scars*
Lavender (Lavandula): antibacterial, antifungal, anti-inflammatory, antianxiety, reduces pain, redness, irritation, wrinkles, and the appearance of scars*
Tea Tree Oil (Melaleuca): antibacterial*
Calendula (Calendula officinalis): antibacterial, anti-inflammatory, anti-septic 
Olive Oil (Olea europaea): moisturizing*
Lemon (Citrus limon): antibacterial, antioxidant, reduces scars and pain, affective against  Staphylococcus Aureus*
Vitamin E Oil (Tocopherol): moisturizes, nourishes, and soothes skin, antioxidant, anti-inflammatory, wound healing, alleviates dryness & itching*
Frankincense ( Boswellia sacra): antibacterial, antifungal, anti-inflammatory, stimulates the growth of new cells and blood circulation, reduces redness, swelling, itching, and the signs of aging*
Jojoba Oil (Simmondsia chinensis): moisturizing*
Oregano Oil (Oreganum Vulgare): anti-inflammatory, antioxidant, and antimicrobial properties.*
Product Size: 2oz screw top tin 2.68"D x 0.98"H
* These statements have not been evaluated by the Food and Drug Administration. These products are not intended to diagnose, treat, cure, or prevent any disease.
Share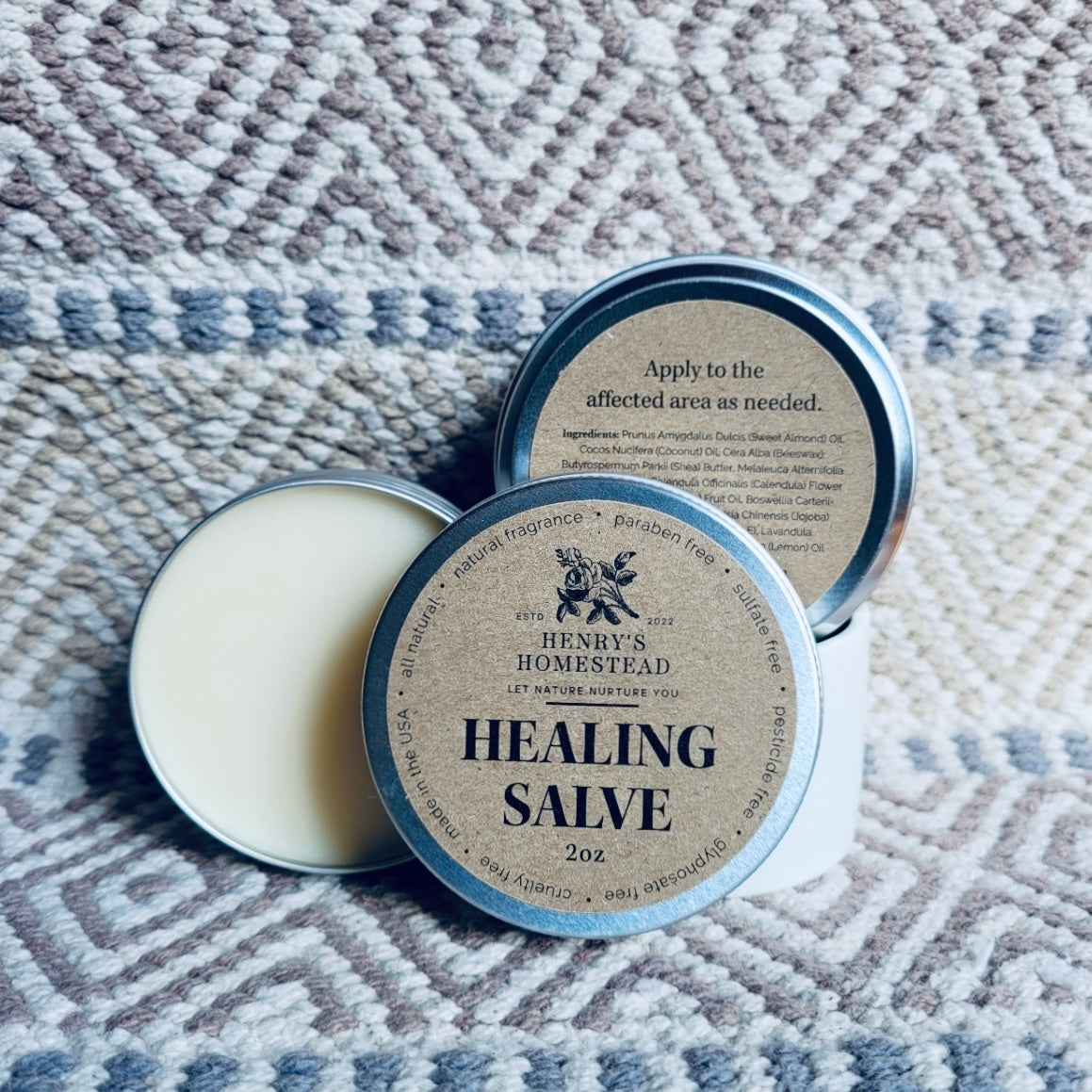 Healed my daughters eczema that she's had since she was 1 month old (6 months old now). Everything took awhile to work and always came back. So far so good only 4 applications.
It works amazing on my children's sensitive skin! We use it for everything.
Love it from keeping noses moisturized when we are sick, to dry hands, to wind chapped cheeks. Becoming a staple here in my home.
Effective Healing
Healed my daughters eczema rash in one use, much faster than the traditional medicine we usually use.
Works wonders
This stuff is great for dry skin! It was recommended to me as a soother for eczema on my 6 month old. Turns out after going to the doctor it was just a dry patch of skin, but I used it anyway and it really melts into the skin leaving it soft and smooth. Highly recommend.