Deodorant Stick
Regular price
Sale price
$9.99 USD
Unit price
per
Sale
Sold out
Deo for your B.O. Smell Good. Feel Good.
  Apply to your underarms without the worry of harmful chemicals. Your underarms will never feel more conditioned and funk free after using this all natural deodorant. You may notice it can take several weeks for your body to detox from aluminum laced toxic deodorants. Apply more frequently during the detoxifying period. 
Natural Deodorant:
Absorbent
Safe and natural
Aluminum free
Antibacterial ingredients
Doesn't clog your pores
Conditions your skin 
Neutralizes the smell
Directions: Apply when you don't want to stink! 
Deodorant Sticks are:
Cruelty Free
No Animal Testing
Gluten Free
Synthetic Fragrance Free
Synthetic Colorant Free
Paraben Free
Sulfate Free
Non-Toxic
Essential Oils used are Therapeutic Grade and 100% Pure & Natural
Ingredients:
Coconut Oil (Cocos Nucifera ): antibacterial, anti-inflammatory, soothes & moisturizes skin, reduces itching
Arrowroot Powder: natural thickener, draws out toxins and impurities
Beeswax (Cera alba): non-toxic and safe
Corn Starch: safe absorbent
Shea Butter (Vitellaria paradoxa): moisturizes, conditions, and soothes skin
Baking Soda (Sodium bicarbonate): absorbent, antiseptic, balances pH levels of the skin, anti-fungal, anti-inflammatory
Essential Oil: aromatherapy
Tea Tree Oil (Melaleuca): antibacterial
Vitamin E Oil (Tocopherol): moisturizes, nourishes, and soothes skin, antioxidant, anti-inflammatory, wound healing, alleviates dryness & itching
 Product Description:  x1 approximately 4 oz.  twist-up deodorant.  Our containers are BPA free.
Essential oils used are Therapeutic Grade and 100% Pure & Natural

† These statements have not been evaluated by the Food and Drug Administration. These products are not intended to diagnose, treat, cure, or prevent any disease.
Share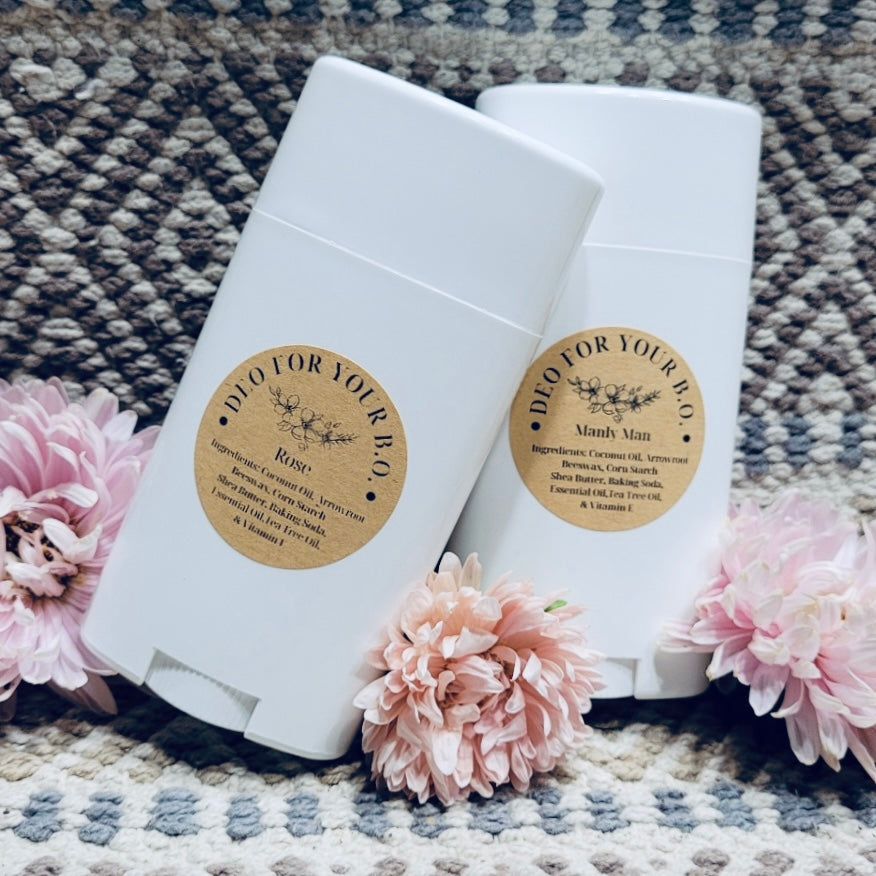 Best thing ever
Best deodorant out there!! Smells so good!!
The best
Great product. Will not be going back to major store brands
The BEST!
I absolutely love this deodorant!! I have been looking for an all natural deodorant for a while now and this smells amazing and actually works! Will definitely be my new go to!!
Great
Finally a natural deodorant that works for me. I've tried many types of natural deodorant and always end up feeling sweaty and want to reapply a few times throughout the day or others make me still feel like I stink. Not the case with this deodorant. I put in on in the morning and feel great all day. I got the honey scented one and love it. So glad I happened to stumble upon this company and tried this deodorant.
Great product
I tried this on a whim from an IG post and love it. I've been using natural deodorant for years but always smelled. With Henry's, it's all natural and I don't sweat!! Love it