Chest Rub
Regular price
Sale price
$9.99 USD
Unit price
per
Sale
Sold out
Chest Rub
  This blend of Eucalyptus and Peppermint is strong enough to open up the airways, but it's gentle enough to rub on your little one's skin. Henry had some congestion and asked if I had any products for his stuffy nose. After his sweet little question, I was inspired and Henry's Chest Rub was created. It's cooling effect is also nice on achy and fatigued muscles.
Chest Rub:

Expectorant & Decongestant

Cooling effect soothes irritation and inflammation in the sinus passage 

Has antibacterial properties 

Moisturizes

Anti-inflammatory, pain reducer, & eases joint pain

Promotes and improves healing

Calming aromatherapy benefits
Directions: Massage into chest, neck, back and/or feet . Apply as often needed.  Avoid contact with eyes. (As always it's suggested to do a patch test prior to using a new product on your little one.) 

* Suggested for children 2 years +
Chest Rub is:
Cruelty Free
No Animal Testing
Gluten Free
Synthetic Fragrance Free
Synthetic Colorant Free
Paraben Free
Sulfate Free
Non-Toxic
Pesticide Free
Glyphosate Free
Essential Oils used are Therapeutic Grade and 100% Pure & Natural
Ingredients:
Coconut Oil (Cocos Nucifera ): antibacterial, anti-inflammatory, reduces itching, soothes and moisturizes skin
Shea Butter (Vitellaria paradoxa): moisturizes, soothes and repairs dry cracked skin
Beeswax (Cera alba): non-toxic and safe
Eucalyptus Oil (Eucalyptus globulus): promotes healing, anti-inflammatory, pain reducer, eases joint pain
Peppermint Oil (Mentha piperita): cooling effect to soothes irritation and inflammation
Product Size: 1oz screw top tin 2" D x 1" H

† These statements have not been evaluated by the Food and Drug Administration. These products are not intended to diagnose, treat, cure, or prevent any disease.
Share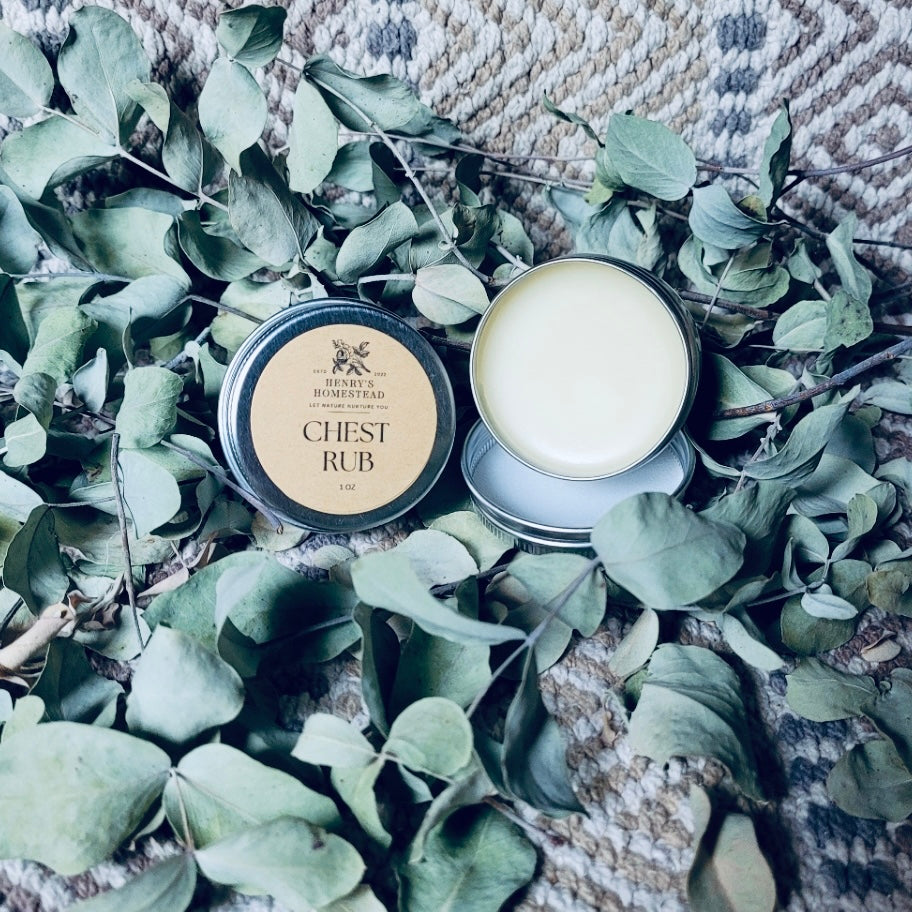 Love It!
I love the way this smells, love that its safe with real ingredients, and love that it helped my three year old sleep well even with the flu!