Calendula Roll On
Regular price
Sale price
$8.99 USD
Unit price
per
Sale
Sold out
Calendula Roll On
 This is one of my favorite products to use on Henry. Henry sucks his pointer finger and it has been causing some irritation around his mouth and chin. His little cheeks have also been red and dry. Because of the calendula oil being in a roll on bottle, Henry can apply it himself.  I don't have to worry about him spilling it and he is really proud of himself after he rolls it on. He even asks for it when he gets itchy. I have found involving him in his skin care routines has been a game changer in getting him to use the products.
  I keep this calendula oil right next to my healing salve. I find having the products in convenient places, help me to frequently use then when I think about it. Not saying, "I'll put that on when I get home", and 10 other things take you attention when you get home. Then you lay down in bed realizing you still haven't applied your favorite skin care product, from Henry's Homestead, but your too tired to run down stairs to get it. I maybe speaking from experience(wink wink), but I'm sure you can relate. 
  It's nice having the calendula in an oil form because I don't have to worry about it melting in the car if it gets too warm. I'm more careful not to leave my healing salve in the car on a warm day because it has bees wax and coconut oil in it, and it will melt. However, it hardens right back up and is ready to use once it cools down. 
  I often use the calendula roll on for my dry hands and cuticles, especially after a 12 hour shift of non stop hand washing and hand sanitizer use.  
Calendula Roll On:
Moisturizing

Antibacterial
Anti-inflammatory

Nourishes and soothes skin

Heals wounds

Antioxidant

Alleviates dryness & itching
Directions: Apply as needed to the affected area.
Calendula Roll On is:
Cruelty Free
No Animal Testing
Gluten Free
Synthetic Fragrance Free
Synthetic Colorant Free
Paraben Free
Sulfate Free
Non-Toxic
Pesticide Free
Glyphosate Free
Essential Oils used are Therapeutic Grade and 100% Pure & Natural
Ingredients:
Sunflower Oil (Helianthus annuus): easily absorbed, moisturizing
Calendula Oil (Calendula officinalis): antibacterial, anti-inflammatory, anti-septic 
Vitamin E Oil (Tocopherol): moisturizes, nourishes, and soothes skin, antioxidant, anti-inflammatory, wound healing, alleviates dryness & itching
Product Size: 10 ml glass bottle with a roll on applicator x1
*Essential Oils used are Therapeutic Grade and 100% Pure & Natural
† These statements have not been evaluated by the Food and Drug Administration. These products are not intended to diagnose, treat, cure, or prevent any disease.
Share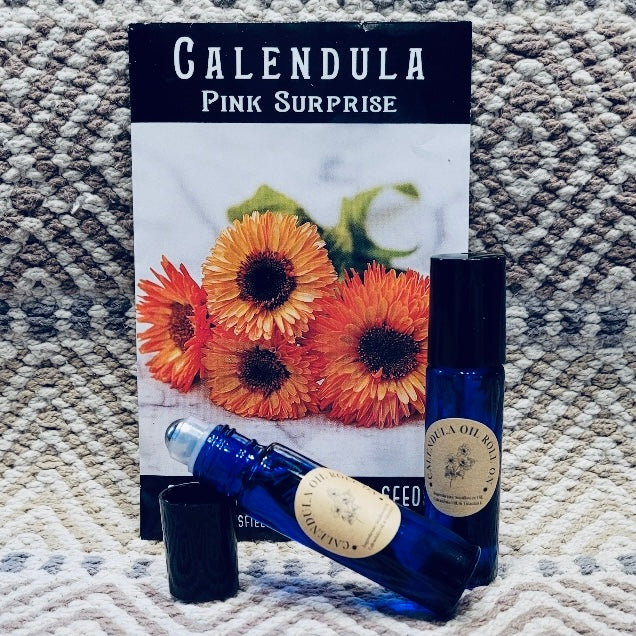 Amazing!
We have several products from Henrys Homestead! We love the roll on and salve! Has helped with my daughters eczema immensely and my kids love that they can do it themselves! 10/10 recommend
Smells Great
Smells great, love it in roller form. Seems to help my daughters skin