Bug Repellent
Regular price
Sale price
$23.99 USD
Unit price
per
Sale
Sold out
Bye Bye Bugs
Henry loves playing outside. However, he is so sweet the mosquitos love him. I formulated an all natural bug repellent to keep him protected from those pesky buggers. I spray it in his hair, on his arms, legs, clothes, and even on blankie. Why not let nature be your bug net and protect your little one?
Bye Bye Bugs:
Safe to spray on the skin and hair

Safe to spray on clothes
Natural and Therapeutic Grade Oils that repel bugs
Safe for adults and kids
Won't dry out your skin
Smells GREAT
Chemical free
Can be applied as often as needed 
Direction: Shake well before applying. Apply frequently to clothing, skin and hair. Bye Bye Bugs creates a natural bug net, keeping those unwanted bugs away from your sweet little one. Do not directly spray on the face, avoid eyes, nose, and mouth. 
Bye Bye Bugs is:
Cruelty Free
No Animal Testing
Gluten Free
Synthetic Fragrance Free
Synthetic Colorant Free
Paraben Free
Sulfate Free
Non-Toxic
Pesticide Free
Glyphosate Free
Essential Oils used are Therapeutic Grade and 100% Pure & Natural
Ingredients:
Witch Hazel: Natural and gentle astringent. Used to treat inflammation and bug bites. (It will help if you little one already has some bug bites or minor skin irritations.) Does not dry out the skin or remove essential moisture. 
Eucalyptus (Eucalyptus globulus): Natural mosquito repellent
Citronella (Cymbopogon winterianus): Natural mosquito repellent
Lemongrass (Cymbopogon flexuosus): Natural mosquito, tick, chigger, flea and fly repellent
Lavender (Lavendula angustitolia): Natural mosquito, tick, chigger, flea and fly repellent
Rosemary (Rosemarinus officinalis): Natural flea and tick repellent
Tea Tree Oil (Melaleuca alternifolia): Natural mosquito repellent 

 Product Size: 4oz and 8oz Amber Glass Spray Bottle
 Essential Oils used are Therapeutic Grade and 100% Pure & Natural
† These statements have not been evaluated by the Food and Drug Administration. These products are not intended to diagnose, treat, cure, or prevent any disease.
Share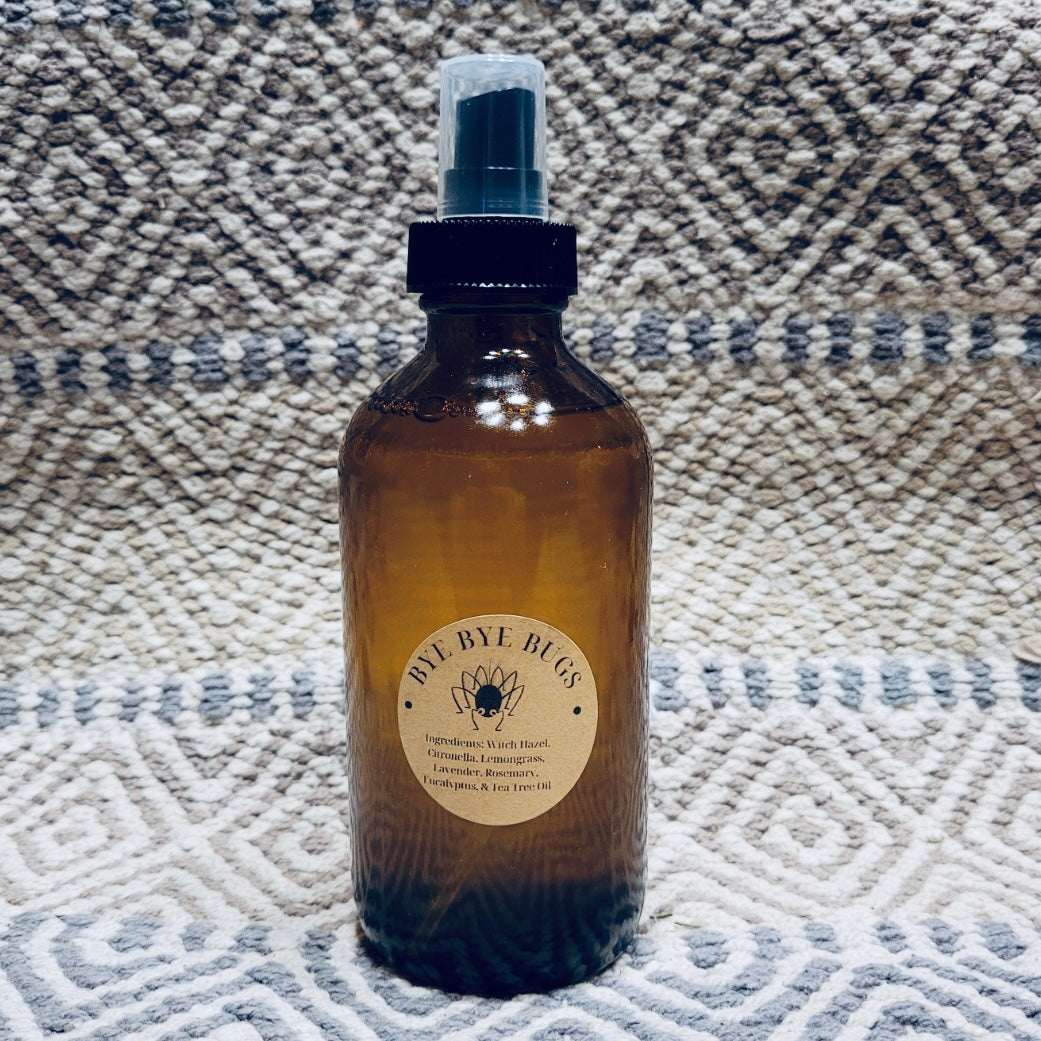 Love!
I saw Dr. Green Mom recommended this, so I knew I had to try. We LOVE it! Smells great & it works so well on myself, my husband & our little girl.
Definitely will repurchase!
MUST BUY!
Dr. Greenmom recommended to her followers so I knew I had to get it. I love that it is a glass bottle and the smell is wonderful. It works like magic! I sprayed it on my LO and us and while everyone else was struggling with their sprays still getting bit. We were not getting bit whatsoever. I recommended it to others since they've noticed we didn't get bit not once! Definitely will be repurchasing soon!
Amazing bug spray!!
I absolutely love this product! It not only smells amazing but it works! I spray from head to toe on my kiddos and myself. Just used it at a 4th of July BBQ and you may have a few more orders coming thru! 😊😜 thank you! Heading over to buy a couple more bottles right now
Really wanted this to work
I love these ingredients, and the smell is so pleasant, but unfortunately it just didn't work in preventing my son and I from getting bites.