Bath Bomb
Regular price
Sale price
$4.99 USD
Unit price
per
Sale
Sold out
Put In The Bomb. And Be Calm.
  Bath bombs are a fun and beneficial addition to bath time. It can be a challenge to get lotion on Henry after bath time, but by adding a bath bomb no after bath lotion is required.  Bath bombs leave  skin moisturized and smelling amazing. It has all the benefits of lotion, but reduces the extra step of chasing your little one around the house.
  It's also a nice addition to those coveted and rare moments for us moms to get to take a relaxing bath. So put the kids and the husband to bed, lock the door, light a candle, and start a nice hot bath. Then put in the bomb and feel the calm. You will love how hydrated your skin feels,  and let's be honest anything that reduces an extra step to getting ready is graciously welcomed.
Bath Bomb:
Moisturizing
Exfoliating
Balances the skins PH
Detoxifying
Reduces joint and muscle pain
Contains antibacterial and antifungal properties
Reduces stress and anxiety

Eucalyptus and peppermint bath bombs are especially helpful in providing relief from congestion

Reduces fine lines and wrinkles
Directions: Drop Bath Bomb into a warm bath, relax and let the magic happen.  Use as often as needed or until you run out...then order more! 
Bath Bombs are:
Cruelty Free
No Animal Testing
Gluten Free
Synthetic Fragrance Free
Synthetic Colorant Free
Paraben Free
Sulfate Free
Non-Toxic
Pesticide Free
Glyphosate Free
Essential Oils used are Therapeutic Grade and 100% Pure & Natural
Ingredients:
Citric Acid: balances skins PH, reduces acne, unclogs pores, exfoliating, flushes out impurities, reduces fine lines and wrinkles
Baking Soda (Sodium bicarbonate): absorbent, antiseptic, balances pH levels of the skin, anti-fungal, anti-inflammatory
Corn Starch: absorbs oils
Coconut Oil (Cocos nucifera): antibacterial, anti-inflammatory, reduces itching, soothes and moisturizes skin
Epsom Salt (Magnesium sulfate): relaxes the nervous system, aids in healing, soothes pain, relieves aching limbs, eases muscle strain, draws out toxins, improves immune system and alleviated stress
Essential Oil: aromatherapy 
Each order comes with 1 bath bomb!
Product Size: 3" diameter 
Essential oils used are Therapeutic Grade and 100% Pure & Natural
† These statements have not been evaluated by the Food and Drug Administration. These products are not intended to diagnose, treat, cure, or prevent any disease.
Share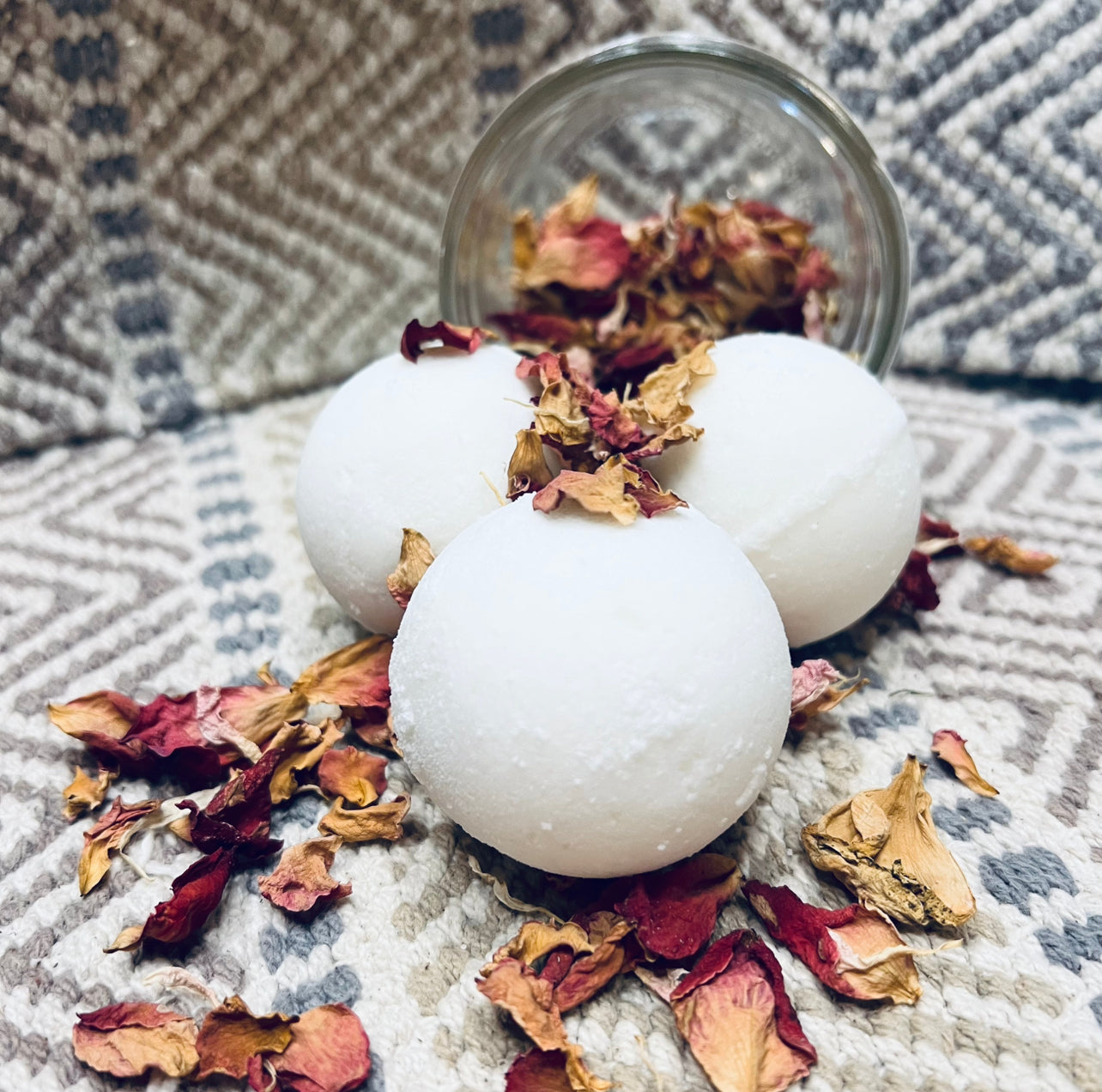 Absolutely love the bentonite clay bombs! Can't wait to receive my next order
Bath Bombs
These have been so great for my daughters baths with her eczema skin. She usually has a hard time in the bath with her skin feeling instantly itchy from the water but now she doesn't cry in the bath with these bath bombs!
The best bath bomb!
I never write reviews, but these bathbombs are my favorite! It is so moisturizing, my skin feels and smells amazing when I come our of the bath! I am obsessed with it! I will keep reordering these!
Amaze balls!
I love these bath bombs. I've tried the chamomile and the lavender. They smell delicious and it leaves my skin so silky smooth! Great to know that there are products that are good for us with wonderful ingredients out there. ❤️